Dana is an Indiana University Student and a minor character in Roomies! and Dumbing of Age.
Dana was an IU student and a friend of Sarah Clinton's. Her only appearance was during the "She's Pristine!" plot arc, when she came over to Sarah and Joyce's room for movie night, along with Carl.
She brought Pulp Fiction to watch. Unsurprisingly, Joyce decided to bail on the evening shortly thereafter in favor of watching The Lion King with Danny Wilcox.
Dana's first appearance also marked the date that Roomies! finally was able to pass the Bechdel Test.
Dumbing of Age
Edit
Dana was an IU undergrad and Sarah's roommate during her freshman year. Dana was instrumental in helping Sarah out of her shell, and introduced her to a number of other freshmen, including Raidah, Chan, Char, and her boyfriend, Carl.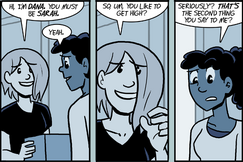 Dana occasionally indulged in recreational pot use, a habit Sarah initially turned a blind eye to. It is also suggested that she may have been supplying pot to friends. Following the death of her mother from cancer, however, Dana became increasingly depressed and significantly increased her drug usage. While Dana's friends were convinced that she would eventually "snap out of it", Sarah was being run ragged by her roommate's emotional instability.
When Sarah's grades dropped low enough to threaten her scholarship, she finally acted, calling Dana's father to inform him of his daughter's problems. Dana was subsequently pulled out of IU, making Sarah a social pariah.
Community content is available under
CC-BY-SA
unless otherwise noted.