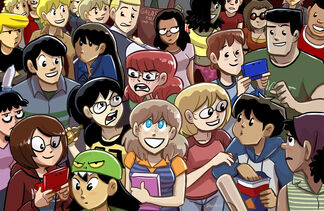 Dumbing of Age
is the fifth webcomic created by
David Willis
, and the first to be set outside of the
Walkyverse
continuity. Essentially a reboot, it features all of the major players of Walkyverse as they make their way through college,
"minus fifteen years of baggage"
and the fantastical/sci-fi elements seen in previous comics.
[1]
It currently runs seven days a week. In addition to the strip's website, it is also available through the Comic Chameleon mobile app operating on the Android and iOS platforms.
Characters
Edit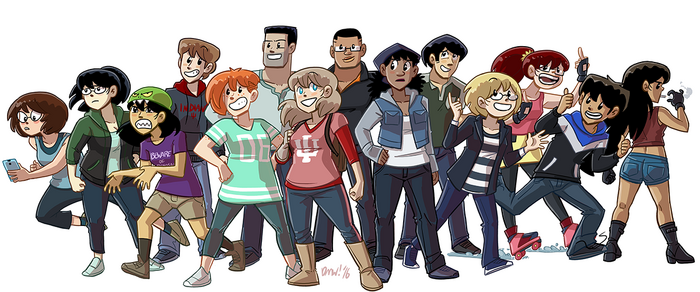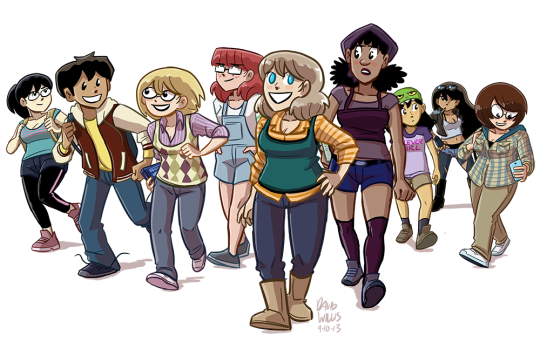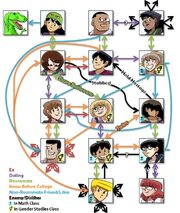 Supporting Cast
Edit
Storylines
Edit
For more detail on individual plots, see the Dumbing of Age storylines page.
Dumbing of Age is currently supported via Patreon. Backers gain access to a number of special bonuses, including:
Early access to strips, typically 24 hours ahead of posting
Two exclusive bonus strips a month, one of which features a character voted on by backers
An exclusive monthly wallpaper
Access to the entirety of Joyce and Walky!
Print Collections
Edit
Four print collections have been released to date.
Book 1: This Campus is a Friggin' Escher Print - September 2010 to October 2011 (Purchase)
Book 2: I Beg You, Don't Cast Your Body Into The Cragged Shame Pits of The Lustwolves - October 2011 to November 2012 (Purchase)
Book 3: Your Stupid Overconfidence is Nostalgic - November 2012 to October 2013 (Purchase)
Book 4: Amazi-Girl Is Always Prepared for Anything - October 2013 to September 2014 (Purchase)
Book 5: Hey, Guess What, I'm a Lesbian - September 2014 to August 2015
These collections have also been released through Comixology.
Dumbing of Age Pornographiques
Edit
In 2014, David Willis began releasing X-rated - and canon! - Dumbing of Age comics featuring various established couples through adult comics portal Slipshine. To date, five "Pornographiques" have been published, with more planned for the near future:
Dorothy and Walky Perform a Sex (Dorothy/Walky, natch)
Mask or No Mask? (Amber/Danny)
Finally (Billie/Ruth)
Head of the Class (Jason/Sal)
Tales of Sinterest (Dorothy/Walky, Roz/Joe, Bryan/Sayid, AND Billie/Ruth anthology style)
Accessing these comics requires a Slipshine subscription.
Merchandise
Edit
Other Dumbing of Age merchandise, including prints and shirts, can be purchased through the DoA/Shortpacked! Big Cartel store.
References
Edit
Community content is available under
CC-BY-SA
unless otherwise noted.