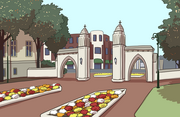 Indiana University (IU)
is a multi-campus public university system in the state of Indiana, composed of two major campuses in Bloomington and Indianapolis, six smaller campuses, and three centers/extensions.
IU Bloomington, the largest campus in the IU network, serves as the setting for Roomies! and Dumbing of Age.
Notable Locations
Edit
Read Hall is a co-ed residence hall, and home of many of the Dumbing of Age cast. The hall consists of four wings: Beck, Clark, Curry, and Landes. Most of the male cast members live in the Beck wing, while the female cast largely resides in Clark. Read is notable for being the only residence hall on campus that has half-baths shared between rooms.
Ernie Pyle Hall is the home of IU's School of Journalism and headquarters for the Indiana Daily Student, the campus newspaper.
Memorial Stadium is the home of the Hoosiers football team. It was featured in the Freshman Family Weekend arc of Dumbing of Age.
Galasso's Pizzas (and Subs) is a popular student hang-out located just at the south edge of campus. Originally known as Mother Bear's, this iconic pizza joint was acquired by aspiring supervillain Galasso and his family at some point in the last few years. In the Walkyverse, it is known as Papa Bruin's.
Showalter Fountain is a decorative fountain located at the center of the University's Fine Arts Square, depicting the birth of Venus from a clamshell. The fountain played a semi-prominent role in several issues of the Roomies! comic book and has made appearances in Dumbing of Age as well.
The Kinsey Institute for Research in Sex, Gender and Reproduction is also found on-campus. [1] Don't tell Joyce.
References
Edit
Community content is available under
CC-BY-SA
unless otherwise noted.