Jocelyne Brown is one of Joyce Brown's many siblings in Dumbing of Age and Joyce and Walky!, memorably described by Sarah Clinton while she was presenting as male as a "reverse-sexed clone" of Joyce.
Joyce and Walky!
Edit
She makes a brief appearance during Joyce and Walky's wedding in Joyce and Walky!, notable almost solely because Machete referred to her as "Aunt Joss" when she, John, and Jordan brought him Brock Doc.
She is post-transition in the Walkyverse, we know because Machete calls her Aunt Joss.
She appears in only two panels: one in a picture taken during her adolescence (and among the rest of the Browns), and another with most of her torso hidden behind Brock Doc's head.
Like all of Joyce's siblings, Jocelyne's name begins with "J"
Dumbing of Age
Edit
Jocelyne (Joshua) Brown


First Appearance:
27 July 2013[1]

Relatives:
Joyce Brown (sister), Hank Brown (father), Carol Brown (mother), Jonathan Brown (brother), Jordan Brown (brother)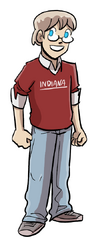 Jocelyne was first introduced as "Joshua" during the Freshman Family Weekend arc, and was the only one of Joyce's siblings to make the trip (Jonathan being "too married" and Jordan being "too... Jordan"). [2]
According to her, she's the favorite child in the family, largely because her parents know the least about her. She currently works as a freelance writer despite the lousy pay, appreciating the ability to define her own identity through her work.[Citation needed]
Jocelyne is implied to be pre-transition transgender.
Ethan Siegal may have the tiniest crush on her.
Being a writer, she seems to be deeply bothered by grammatical errors (at least on signs).[

Citation needed

]
References
Edit