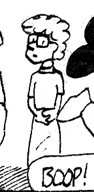 Mrs. Dingo was a member of the faculty at La Porte High School when Danny Wilcox and company attended.
Mr. Kangaroo asked Mrs. Dingo the difference between High School and Preschool after witnessing Joe being chased down the hallway by a "booping" Sal
Mrs. Dingo and Mr. Kangaroo never appeared in the original run of Roomies! The strips they appeared in never were published until the Bring Back Roomies! run, as added strips to an extended flashback while Danny was tilling Howard about Sal.