Ron was an Indiana University student and a minor character in both Roomies! and Dumbing of Age.
Roomies!
[
]
Ron went to school with Ruth Lesse and Carly Spencer, and as an Indiana University student, he shared a house with them and Jennifer Billingsworth.
Danny first met Ron and his housemates when Ruth invited him to hang out at their house. Beer was promptly served. Ruth later described him as a "drunken jerk".
Ron was seen (mostly drunk) at several other parties at the group's house, including the one where Ruth confessed her history with Ryan to Danny.
On the night that Danny first got drunk, he took off in Ruth's car to try and get more beer while severely inebriated. Ruth borrowed Ron's car, determined to stop him before he came to any harm. During the chase, Ruth was forced to ram Danny off the road to save him from an oncoming truck, leading to her death. Ron was not pleased to discover the wreckage of his car the next day.
However, he apparently learned nothing from that night, and proceeded to throw another party not long after Ruth's death, arguing the best way to cope with her loss was to "bury it under gallons of Red's Scottish Beer."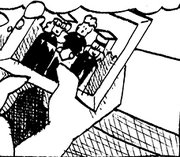 What's more, when Howard, Ruth's younger brother, moved in with him, Ron took particular pleasure in bullying the younger student. He finally got his comeuppance towards the end of Roomies! when Danny punched him.
Yes, that Danny.
Trivia
[
]
Like Carly, Ron wasn't given a formal last name until the Roomies! strips were republished at BringBackRoomies.com.
After Ruth's death, Billie is seen looking at a picture of Ruth, Ron, and Carly in graduation attire. This could be either from their high school graduation or their undergrad diploma ceremony, bearing in mind that Ruth is in grad school by the time Roomies! rolls around.
Dumbing of Age
[
]
Ron made a brief appearance as the host of an off-campus party that Joyce, Billie, Dorothy, and Roz attended.
After Joyce was drugged and almost assaulted by Ryan, he drove them back to the dorms and promised to call the police if he ever saw Ryan again.