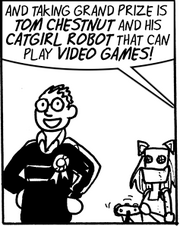 Tom Chestnut is an Indiana University student, inventor, and liver of the geek dream.
Tom Chestnut participated in the Collegiate Inventors Contest against Joe. He ended up winning with his catgirl robot that can play video games. Joe then beat him up
Tom shares his name with a character from Calvin and Hobbes. David Willis apparently didn't know this at the time, and just thought that it sounded like a hatable name.